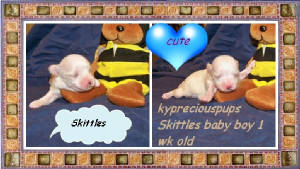 Skittles on the other hand has no problems at all nursing he is a roudy little one we should have nick named him wiggles . He is also small he is a tad bit bigger than Mir-Mir..
Skittles is precious with his baby doll face and tiny ears he is very active to be so small . He is the one we always find a sleep on his back..
Skittles 4 weeks old and cute as a button!
Waving hi!
Skittles at 5 weeks old waving...