you can use any of the pictures that you want to.I can't say enough about makx.he is smart,lovable,great with kids and a momma's boy.
he learns quickly.I owe alot of that to bhalie.he follows her constantly.
I can't say enough about you and your family for getting his life off to a great start.
getting a new puppy from a loving and caring home makes such a big differance in their attitude and personality.
pet store dogs and kennel dogs are starved for love.Makx came full of love.be proud of the job that you all did.I know I couldn't be happier with my little man. thank you again. Maureen
p.s. do you mind if I send other pictures as he grows or maybe not grow. (too big,that is. Ha!)
Have a Happy Day!
---
Here are pictures of Makx with his new family In CT..
He has a very happy home as
you can see in the pictures Mauraeen has shared with us .He is very spoiled and Happy!
Bhalie ,Maureens Grandson and Makx
Makx and Bhalie best pals !
Hi della,
Just sending an update on Makx.
he weighs 3lbs.11ozs and doing great.
he is the sweetest little guy.spoiled,loveable,smart.
hope to see him on tv soon.Ha! I mean on your web site.
him and bhalie are the best of friends.
thanks again for raising such a wonderful puppy.
maureen thompson.
p.s. you can give my email to anyone interested in this breed.
mickeydad4@hotmail.com
I can't say enough good things about the way you and your family home raised MAKX.
he is the BEST.
Have a Happy Day!
CONGRATULATIONS!!!!!!!!!!!!
MAKX IS SO GREAT. PERSONALITY IS FANTASTIC.HE AND BHALIE ARE LIKE TWO PEAS IN A POD.
I WISH YOU COULD SEE THEM.
WELL WHOEVER BUYS YOUR TWO NEW PUPS ARE LUCKY TO HAVE THEM.
I MADE AN APPOINTMENT TO GET MAKX NEURTERED,BUT THEN I CANCELLED.
HE IS JUST A PEANUT AND I DON'T WANT ANYTHING TO HAPPEN TO HIM.
I ALREADY TALKED TO THE VET ABOUT THIS ONCE AND SHE TOLD ME TO WAIT UNTIL OCT.
BUT HERE I AM WAITING AGAIN.
IF ANYONE WANTS ANY INFO ON MAKX AS ONE OF YOUR PUPS,HAVE THEM EMAIL ME.
I'LL BE GALD TO HELP. MAUREEN
Have a Happy Day!
Updated pictures March 7th 2008
__________________________________________________________________________
Della, thanks so much for Tippy! He is so sweet and so playful, he's just the perfect puppy! I would most definately buy another puppy from this seller. She takes such good care of her puppies and they are full of love. I also appreciated how well that you kept me informed of how Tippy was doing with the emails and the pictures that you sent weekly. Thanks so much for the perfect puppy! My email address is
jennybrowder32@hotmail.com
if anyone wants to use me as a reference. Thanks
JENNY BROWDER
Please click here ! to see pictures of Tippy Growing up at www.kypreciouspups.com
Hey Della! I forgot to explain the pic of Tippy on the Diet Dr. Pepper box. That's his favorite toy. He drags that box all over the house and likes to climb in it and "hide". He's so cute. I've bought him tons of toys, but none of them compare to that box! LOL. Hope your babies are well.

JENNY BROWDER
Added new pictures on March 7th , 2008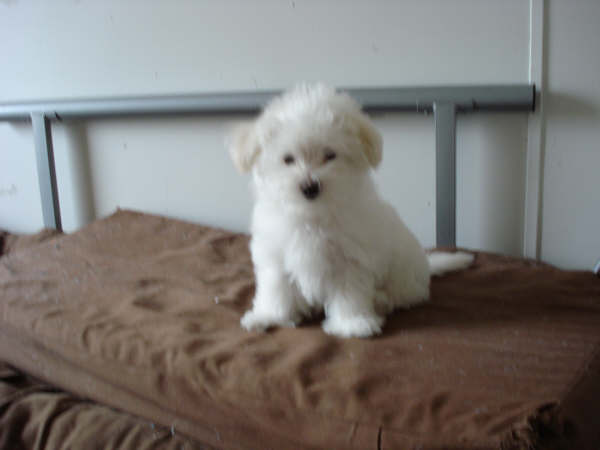 __________________________________________________________________________________________________________________________________________________