How he got his name is, he was a miracle puppy saved by Prayer and a emergency c-section .
and he is going to a wonderful home.
Mir-Mir is doing wonderful , The first three days of his life I had to Syringe feed him with a baby nipple on the end , were he was a C-Section baby he was a little bit weaker than the others and he was for sure the Runt.. he is doing wonderful now nursing on his own and growing like a weed...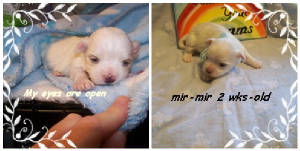 Mir-Mir is so cute and doing wonderful he is still the smallest of the 2 boys .We love puppies here and fine that each one has something special that makes them stick out .. He has the cuties little face button nose and its almost if he smiles at us.