JADA IN HER MATERNITY DRESS
Jada is in the above picture she weighs 3 1/2, she is the mother to these little angels Gage and Gunner. Below is the father of them Dinky is 3.2 pounds. They are teacups..
Teacups range between 3 to 4 pounds
Gage and Gunner are very loving and playful little ones
Gage is sold to Alyssa of Florida
Gunner is available he is very precious and playful...
JADA HAS HAD HER PUPPIES 2 BABY BOYS BORNED JULY 29TH 2008
Click below to see the puppies at play, Clover, Gage and Gunner. It may take a few minutes to load..
this Video was added 9-6-2008
**Click Video below ! To see and hear puppies Gunner and Gage at 2 weeks old .**8/13/08
Gunner and Gage 8 weeks old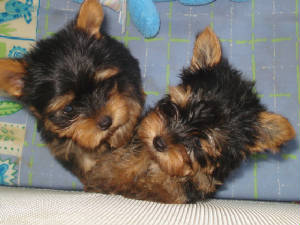 Shana and Gunner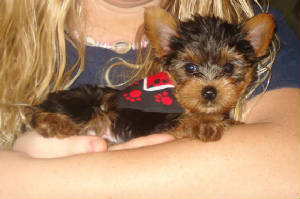 Click Here , to play video of Shana and Gunner playing!!
8 wks old playing in the play pen
OUR TINY TOY YORKIES ARE FROM WONDERFUL AKC BLOODLINES WITH LOTS OF CHAMPIONS IN THEM .
GUNNER is $1200.00
shipping by Delta Pets First
200.00 DEPOSITS ARE NON- REFUNDABLE)